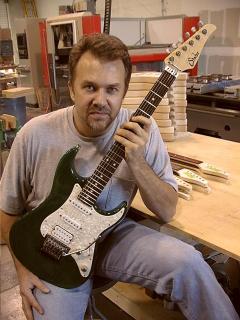 Talkin shop with Master Luthier John Suhr. John was kind enough to share the following with Musicians Hotline.
MH: John, tell us about your early musical influences, and was there a particular style of guitar that you were partial to?

JS: I started playing in about 1974, Senior in High School. I started with some nice guitars since I had a Bass player friend Steve Rava who brought me into a band he was playing with called Davis Jaynes. They were influenced by Mountain and The Who. In fact the lead guitar player/singer Dave Johnson (great player and singer) was friends with Leslie West. The guitar of choice was a double cut Les Paul Junior; I probably have owned 4 or 5 of them or single cuts. Later I started listening to more Hendrix so naturally I drifted more towards Strats. I still have a love for Juniors even though I no longer own any.
MH: Can you recall the very first guitar you modified or built?

JS: When he lived in NJ, Bob Benedetto made a neck for my strat since I wanted it to play more like my Juniors. He let me watch him make it since it was my headstock design. I was interested in building right from the beginning and wanted to hang around Bob some more. Maybe for the best Bob said, "If you want to do this you will just jump in, you don't need lessons, you either have what it takes or you don't" Maybe Bob just didn't want some long haired kid hanging over his shoulder. I eventually built a body for the neck since the strat body didn't suit me anymore with that neck. I glued the two together and enjoyed that guitar for a while until I decided I needed inlays.
Bob had moved to Florida. I was already doing fretwork but inlays were a new experience. I took it to 48th street in NYC to someone who was supposed to be good. After waiting for months I went to pick up a half finished guitar, he totally butchered the neck, chipped all the ebony did a terrible fret job. I took it home tried to plane out the hideous looking star inlays and refretted it. By this time the neck just didn't feel the same anymore. In a Townsend fit of rage I smashed it on the floor. That was the last time anyone touched my guitars, I'd say about 1976.
MH: Tell us about your relationship with Rudy Pensa of Rudy's Music Shop in New York, and how the Pensa-Suhr brand was born?

JS: I had worked in Music Stores in NJ and had always worked on my own guitars. I met a Brooklyn girl at a gig and followed my heart to NYC. I worked as a cook during the day and played in bands during the night in NJ. One of the guys I worked with at the restaurant took a job at Rudy's and basically convinced me to bug Rudy for a job as a repairman cause he knew Rudy needed one. Rudy's gave me the exposure to the right people to see my work.
I started in the boiler room the size of a small closet and started taking in repairs. Gradually we became more and more busy until the repair department took up a few floors of the building. We were also a Schecter Custom Shop. We would stock Necks and Bodies and build these high quality kit guitars. The very first non-Schecter custom kits we called "R Custom". Later Rudy talked me into putting both our names on them. I'm sure he is kicking himself for that since I didnąt want my name on them.
MH: Can you recall the first Pensa-Suhr model, and when were these guitars introduced to the marketplace?

JS: I would think that would have to be around 1984, before that I made a handful of guitars called "Suhr Custom". Schecter eventually sold out, Tom Anderson left and took the Pin router and started making bodies to sell to builders. Rudy bought a bunch of unfinished Schecter necks, Tom cut us bodies using a modified strat shape downsized at my request and we started making these Pensa-Suhr guitars. Rudy was still the owner of the store I was never a partner. I became disenchanted since we had no real machinery, Tom stopped making parts for people to pursue his own line of guitars and I was tired of making kits when I really didn't have control over what I was getting.
MH: After leaving New York, you pursued tube amp design and hooked up with Bob Bradshaw (circa 1991). Tell us a bit about your relationship with Bob and what products were created under the venture?

JS: I was still playing guitar in an original band in NYC while I was working at Rudy's. I loved the idea of and needed a switching system for the kind of music I was playing. Lukather and Landau were my heroes; I just had to have a rig. Who better to go to but the rack god who made all the rigs. I bought a rig from Bob and purchased his amp suggestions. I was craving more tone and really wasn't hearing what I wanted. Luke could make this gear sound good but I couldn't play like him so I needed more tone!
The same way I got into building I dove head first into electronics. I spent every free moment I had studying and buying technical books, going to libraries, ripping apart every amp I could get my hands on. I set up shop at rehearsal and tweaked a Marshall until I started to like the tones better than the gear I purchased. I told Bob about my modified head and he was interested. He asked if he sent one to me would I mod it for him, I said sure. He got the head back, let people listen to it and called me back to ask if I would make a 3-channel preamp. I said I would give it a shot. Basically he told me how to lay out the controls and left everything else in my hands. I designed the circuit and the PC board. He let everyone hear the prototype and guys like Lukather and Landau liked it better than what they had.
Bob sold so many of them he said I need your help; you need to move out here. My new wife and I decided we needed a change and moved to CA. I designed the 3+ preamps and OD100 amp, I also wired racks, did Marshall and amp mods, PCBoard designs and silkscreens for some of his other projects. Bob was fun to work with, I learned a lot about rigs and all those killer guitar players walking in the shop like Landau, Luke and Henderson, Steve Stevens, just made me decide my place was to design gear and guitars, not to play.
MH: Tell us about your days with the Fender Custom Shop, and your role with the company at the time?

JS: I actually talked to John Page back in NYC before Custom Audio when John was meeting with John Black about a job. The timing wasn't right for me to move to CA. As rack preamps started to be less of the craze, the preamps slowed down and I started to do some guitar repairs and building again. My wife and I had a baby boy now and it was time for some security and a real home. J. Black was now a Senior Master Builder at the Fender Custom Shop. J and I knew each other from NYC since J worked with Roger Sadowsky.
J talked me into talking to John Page about a job. After meeting with John Page and feeling the security of a large company, benefits and a better and consistent paycheck, I just had to do it. So I accepted a job as Senior Master Builder at the Custom Shop. While there I also made 4 Fender low power Tweed Twins for Eric Clapton, which he used for many years. They were basically made in my garage 100% from scratch. Even custom-made output transformers. I also made one for BB King and one for Mark Knopfler.
My main job was to build custom guitars to order but I was involved in custom shop pickup R&D, paint R&D and designed the active electronics for the Deluxe series basses. The same reasons that I went to Fender eventually became the reasons I left, I was tired of fighting for my beliefs and decided the only way I was going to do things my way is with my own company. I wanted 100% complete control over every detail.
MH: Then came Suhr Guitars. Tell us about the early days and when did the first model premier with an official headstock brand?

JS: While dealing with some of the frustrations like trying to talk them into upgrading software, I met a software sales rep who said "You seem to know how to get it all done, why don't you do your own company? "The reason I didn't besides security was I didn't know how to get it from my drawings to the CNC and had no desire to use Pin routers and old technology when there was this exciting new world out there with Computer run routers. Well Steve Smith said, "If you can draw it (In CAD), I can cut it."
MH: Tell us about the early days and the early models?

JS: Basically we went with designs I had designed in the past with improvements, which we call our standard and bodies we call Classics which are based on the classic Fender designs with comfort cuts like the tummy and arm cut on the Classic "T". All our guitars have easier access to the higher registers.
MH: What do you feel is unique about the design of Suhr Guitars?

JS: We have one builder make one guitar. Everything is QC'd before it gets to him, we spent a lot of attention to detail, playability, finish quality, but the basic design isn't unique, it is classic. What is unique is that it might look plain Jane until you pick it up and play it. My guitars are deigned to go right on stage and feel like an instrument that you were born with. No modifications are needed since you can custom order all your options right from the start.
MH: Tell us about some of your endorsers and how this has helped to promote the Suhr brand?

JS: Not too many of them really, Scott Henderson, Reb Beach, Mike Landau (with our pickups, Toshi Hiketa (David Lee Roth)) John Shanks, Matt Scannell, Paul Pesco, Mike Thompson. So many great players buy our guitars. Probably the one most involved is Scott; Scott has amazing ears, fingers, and is always listening to things. He plays my amps and guitars, what more can I ask! I use Scott quite a bit when I need help on tones.
MH: Tell us a bit about your facility, employees, and how many guitars are being produced on a monthly basis?

JS: We are about 5,000 sq ft, 2 CNC routers and a crew of 8 including myself, we make about 40-50 pieces a month.
MH: You have recently expanded your shop and added some additional equipment. How has this benefited your production?

JS: It is now a joy to come to work. I finally feel like there is nothing to stop us from making anything we want. It has helped production accuracy and even moral. Money makes money, it is so true but you have to have the right gear to make a great product consistently.
MH: Suhr Guitars is a true custom shop. Tell us about the incredible options you can offer your customers?

JS: Wow that would be a long response, how about too many! I have a hard time saying no so the best thing is if you don't see it on the price list then just ask.
MH: Suhr Guitars is now producing high-end basses. Tell us about this latest venture.

JS: Again it is in a Classic "J" style, we just set out to make it right, no compromise. As on the guitars, we make all the pickups and electronics in house as well. It is a killer J with some options.
MH: In closing John, what do you feel is in the future for Suhr Guitars, and most importantly what do you feel has contributed to your incredible success?

JS: Persistence and pursuit of knowledge. I think 20-hour days have helped, trying to always be there for my customers. I spend a lot of time on BBS groups trying to answer questions. I am totally hands on in the shop. Nothing leaves before I say it is good to go. I have always felt it is important to know what you are doing and provide great customer service. I love what I do and take it to heart. I have a great crew; I couldn't do it without them. Soon I'll put all their faces and shop tour on the new website (still under construction). Of course I can't forget I could not have done this without a very understanding family!
The customer needs to know that he can come to a shop like ours, custom order an instrument and not be disappointed. I stand behind everything we do. In the future we will get our new amp line off the ground, add a few new guitar designs and maybe expand slowly. I don't want to get so big to where I can't have Friday lunch will all the guys.